September 11, 2011
Stavanger International, Norway
Our little mascot, the young whippet Librium's Incredible Love charms everyone on his way by his excellent type, super size and outline, overall balance, beautiful head, darkest of eyes, well made body, excellent angulations both ends and low free movement. In Stavanger International he again went on to win CC and best male, this time under Göran Bodegård, Sweden.
So far he has been winning 9 CC and mostly best male in just 11 shows – all from junior class! This young lad is among the top winning males in the breed this year! He has already sired four litters of very nice quality and more to come!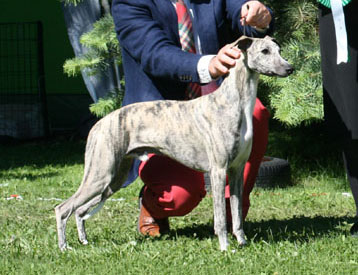 Librium's Incredible Love winning his 9th CC and best male.