June 25, 2010
World Show Herning, Denmark
Int Nord Ch JWW-08 NV-08 KBHV-09 NV-09 Showline Sporting Step was BOB under Rainer Vourinen and Group 3 under Espen Engh! She even got the World Winner title 2010!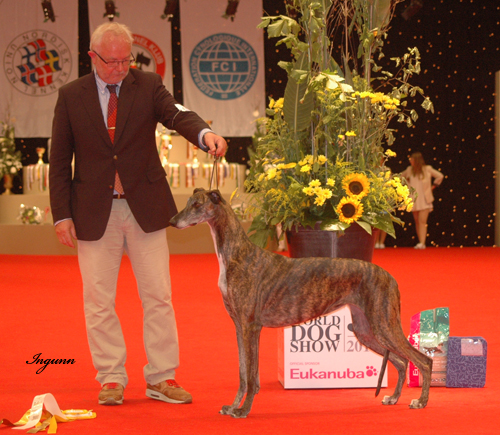 Int Nord Ch JWW-08 NV-08 KBHV-09 NV-09 WW-10 Showline Sporting Step winning Group3 pictured under Espen Engh
Her dam GB Int Nord CH NORDV-02-03-06 KBHV-03 NV-04 SV-04 Showline Silent Step was out for the first time in two years and was best veteran in the breed and won the title Veteran World Winner 2010. What a nice day to retire for this lovely top winning bitch!
The Showline Greyhounds won best breeder class as well!
What an exciting day we had at the World Show 2010! Thank you for the many cards, phone calls, sms, e-mails with congratulations, pictures and gifts from good friends around the world – and even new ones as well!